That 20th century icon of civilized sophistication, the pipe, is making a comeback. With the complete sellout of the second edition of his highly acclaimed The Ultimate Pipe Book, Richard Carleton Hacker has written Pipesmoking—A 21st Century Guide. The 160 page paperback includes over 90 never-before-published photographs, in both black & white and color.
"It's not surprising that as we have now entered the 21st century, we should stop and take a look backwards to see what we may want to keep with us," says Hacker of the pipe's rediscovered popularity. "The pipe symbolizes all that is stable and desirable in mankind. It has nothing to do with smoking; it is all about symbology and enjoying life."
This popularly-priced softcover is designed to appeal to both new and experienced pipesmokers alike. Chapters cover all facets of pipemaking, pipe buying, pipe smoking, and pipe tobaccos. In addition, due to many requests, the author has included a chapter entitled, "Tobacco Taster's Menu of Blends," that covers the history, recipes and flavors of over 100 different commercially available pipe tobaccos. Pipesmoking—A 21st Century Guide also contains a Pipesmoker's Sourcebook listing numerous pipe-friendly publications and organizations.
Available at amazon.com and at better tobacconists.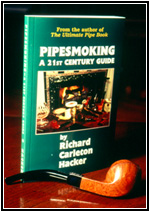 Pipesmoking
A 21st Century Guide