HACKER CREATES CIGARQUEST,
WORLD'S FIRST AUDIO INFO-SMOKE

Listen to Samples from
CigarQuest
Richard Carleton Hacker, well-known cigar spokesperson and author of the highly acclaimed The Ultimate Cigar Book, has created CigarQuest — Conversations In Smoke, the world's first audio cigar cassette. The attractive two-cassette package provides 180 entertaining minutes (about the length of four churchill-sized smokes) of factual information and conversations on all facets of cigar smoking.
"It's like listening to your own private cigar talk show," says the author, who is both the producer and host of CigarQuest. The unique audio cassette program was inspired by Hacker's popular cigar night seminars. "There's a lot of entertainment and information packed into these events. I created CigarQuest so everyone with an audio cassette player can listen in and share the experience."
CigarQuest includes in-depth discussions with some of the world's top cigar makers, answers to some of the most frequently asked questions (actually recorded during the author's many cigar dinner seminars), behind-the-scenes anecdotes on passages from his best-selling book, cigar trivia, and his well-known off-the-wall
commentary. A discussion of Cigarmania, cigar making, the lighting ritual, picking a perfect cigar, the facts behind real and counterfeit Havanas, and choosing accessories are just some of the additional topics contained in CigarQuest.
Professionally produced in Hollywood, California, CigarQuest is designed as a companion piece for The Ultimate Cigar Book. "It would be virtually impossible to put all of the information contained in my book onto two cassettes," Hacker said. "But now you can listen to some of these smoke-filled facts and spontaneous commentary while driving in your car, jogging, or just relaxing in your backyard with a pair of headphones and a cigar."
CigarQuest is available at fine tobacco shops worldwide, at a suggested retail price of $19.95.

PLAY STOP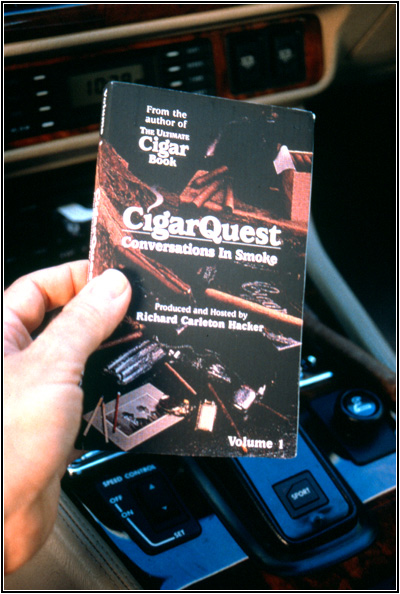 CigarQuest Audio Cassette - Volume 1