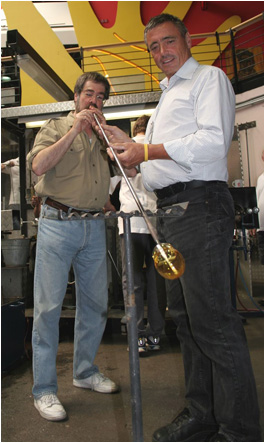 While visiting my friends the Riedel family at their factory in Kufstein, Austria on May 17, 2006 to help celebrate their 250th anniversary as glass makers, they invited me to try blowing a lead crystal wine glass. I am being assisted by Rudi Moser (r), who has worked at Riedel for four generations. As I gently puff into the blow pipe, Rudi is slowly turning it to keep the molten glass from dripping onto the floor. I don't think my finished wine glass is going to make it into the Riedel catalog, and there's definitely no chance of me giving up my writing career to hire on as a glassblower.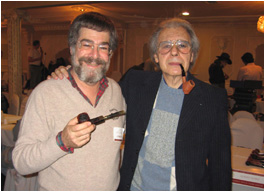 You can always find great people attending pipe shows. At the 2006 Pipe & Cigar Expo in Los Angeles, I bumped into a talented friend (who has more of my pipe books than I have), award-winning composer, pianist, and conductor Lalo Schifrin. Lalo recently authored his own book, entitled, "Lalo Schifrin: Conversations," although at the moment, it is only available in French. Lalo has composed and performed countless orchestrations for motion pictures, television and numerous concerts.

You've heard his musical talents on big and small screen classics such as ³Mission Impossible,² ³Mannix,² ³Cool Hand Luke,² ³Bullitt,² ³Dirty Harry,² ³The Cincinnati Kid,² ³Amityville Horror,² ³Tango,² ³Rush Hour,² and ³Rush Hour 2. Lalo has also won four Grammy Awards and received six Oscar nominations, and has conducted for the London Philharmonic Orchestra, the London Symphony Orchestra, the Vienna Symphony Orchestra, the Los Angeles Philharmonic, the Israel Philharmonic, the Mexico Philharmonic, and the National Symphony Orchestra of Argentina - his homeland.

One of the most talented pipesmokers I know, he also shares my interest in collecting Christmas pipes. What more can one say?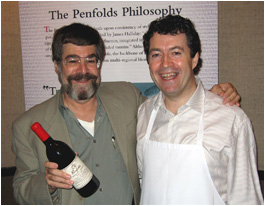 Every two years, Penfold's - one of the great Australia wine producers - conducts a recorking clinic for their wines that are at least fifteen years old. The wines are professionally assessed, opened if necessary, topped up with a similar vintage, and recapsuled. A special label is affixed to the back of each recorked bottle, and signed by one of the winemakers to attest to the wine's provenance.

In 2005 I attended Penfold's clinic in New York (they are also held in San Francisco and other cities around the world) and spent time with Penfold's Chief Winemaker Peter Gago. I also brought along a bottle of Penfoldıs 1980 Cabernet Shiraz Bin 389 from the Magill and Barossa Valleys in southern Australia.

Peter carefully uncorked the bottle, took a sip, recorked and recapsulated it, and said, "Best drink it soon." On Christmas eve, I took his advice!

Penfold's started their recorking clinics in 1991 and to date, have recorked an estimated 80,000 bottles. And best of all, this service is free. If there was an award for after-sales service, Penfold's should get it.